World Guide
From World of Charun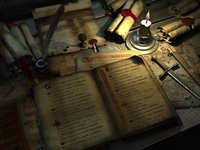 Geography
This geography section covers the world with all the regions and nations, as well as other places of interest.
Click: Gazetteer
Religion
All the various deities and powers gaining worship are covered here, as well as their priests and followers.
Click: Religion
History
The history of Charun is covered in the history section, throughout the ages, both through descriptions and timelines. Numerous realms rose and fell during the Third Age, all found under the fallen realms section.
Click: History
Ecology
Beasts, monsters and humanoids are detailed in this section.
Click: Bestiary
Library
Legend and lore from Charun, based on both mythology and history.
Click: Library
Miscellaneous Guide
A broad range of information, from armies to slavery, pirates to famous persons and the calendar of Charun are covered in this section.
Click: Miscellaneous Guide

Back to: Main Page