Bestiary
From World of Charun
The fauna of Charun is plentiful, with a wide range of creatures - some rare, others quite common. There are gargantuan beasts, wild animals, unholy things and ancient demons that have slithered in the darkness since the beginning of the ages.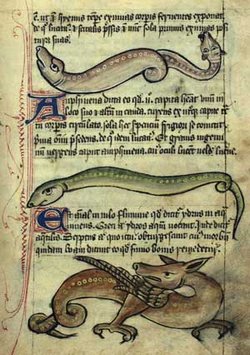 Creatures
Unique Creatures - Living & Dead
Czubnag´dah - Goblin warlord of the Third Age - Deceased
Khursk - Demonlord of the 512th Abyssal layer
Makaloth - Prince of the Plains of Agony
Ranuthruarzar - Red Dragon slain in 364 IV
Zhazhrurat - Red Dragon slain in 908 III
Zizhrellah, Blue Dragon
Zrilanduzarm - Great Blue Wyrm slain in 4978 II
Zshuskila - Black Dragon slain in 357 IV
NPC Races
There is a number of races and cultures that are not available for players. More often than not they're aggressors, raiders and pillagers posing a threat to travellers. Some examples of such are:
Monster and NPC Names
This section is used mainly by the DMs as a resource, but players may find it come in handy as well.
Back to: Main Page | World Guide